Nothing makes me happier than to see a talented and contemporary female artist be recognized with museum retrospectives at a relatively young age. Von Heyl is a painter and printmaker with a style that is difficult to pin down. I
find her work utterly compelling.
In her interview with Tyler Green of Modern Art Notes, von Heyl talks about her three martini theory that there are three types of artists: those that rely on input, input, input (such as herself), those that are like a dog to the bone, and those that are bright-eyed and bushy tailed and who are conscious always of where their art fits into the art scene of that moment. She says she constantly reads books and looks at printed images and trolls the internet and blogs absorbing information. Von Heyl says it is a completely cannibalistic "search and seizure" (my words in quotes) and then she goes into the studio and paints. She says that when asked about her reference in paintings, she often can't recall.
In It's Vot's Behind Me that I Am, 2010, acrylic, oil on linen and canvas, 82 x 72" (courtesy
Freidrich Petzel Gallery
), she used canvas and layered a bed sheet on top exploring the way the sheet absorbed the paint vs. the canvas. There is strong geometry, pattern and a graffiti type of abstraction. The white and black rectangle is meant to be a brick according to von Heyl. (an example in this case of a recalled reference, she cites the influence of Krazy Kat comics.)
The next image also has pattern and also shows hints of humanistic or animal form yet distorted to the point of being unrecognizable. You can also see instances of where she laid down tape as a technique. Below image from the Institute of Contemporary Art PA and is not identified.
Below Untitled, 2007, woodcut on digital image, 30 x 22 1/2"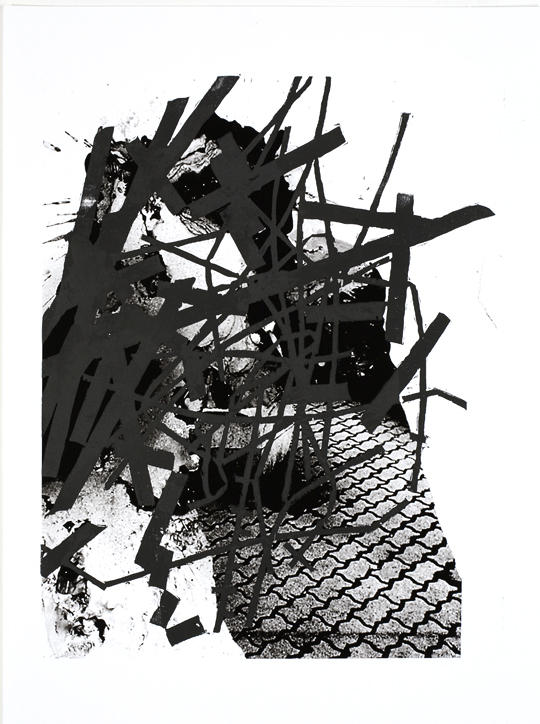 Below, Woman, 2005, charcoal, acrylic and oil on canvas, 82 x 78"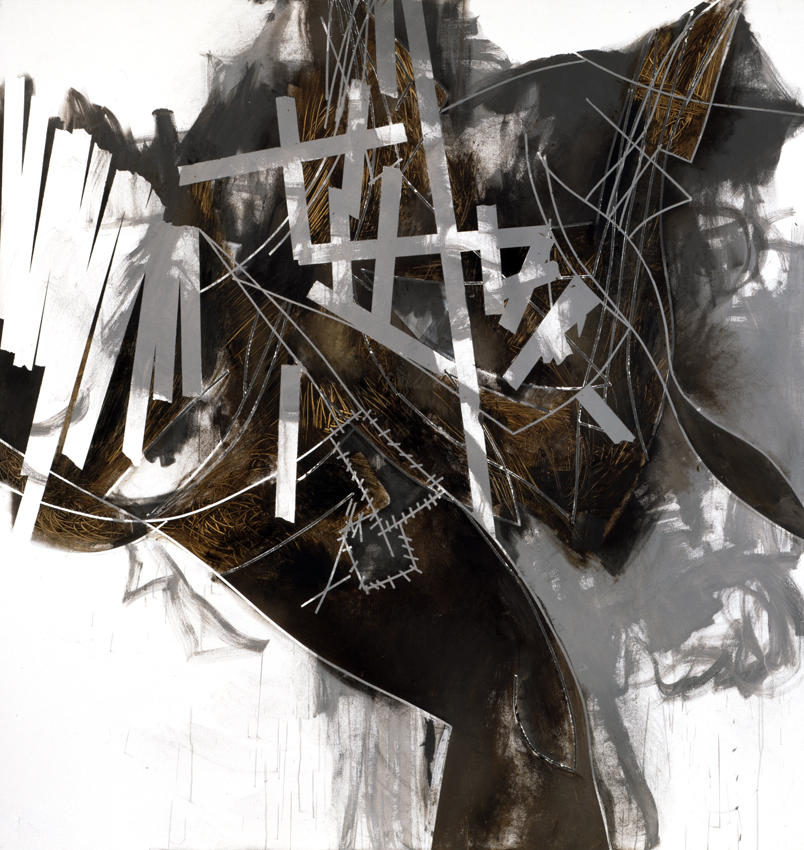 Von Heyl, who was born in Germany in 1960, says her works have a "cringe factor." She says she forces things together that could not possibly work. She says it is akin to bending bones.
In Lying Eyes, 2005, acrylic and oil on canvas, 82" x 85" below, also from Friedrich Petzel Gallery, there is pattern and architecture, animal heads and other body parts, and fractured imagery that dispenses your tenuous grasp on any realistic hold. I love the shadow effect in the background. You often see artists using the exploded hard edge imagery but the combination with soft sections of more restful suggestive shapes are very compelling. It's as though von Heyl goes to that next step, as though she looks at the image and wants to thwart any reference you might be grabbing. I could look at her work for hours.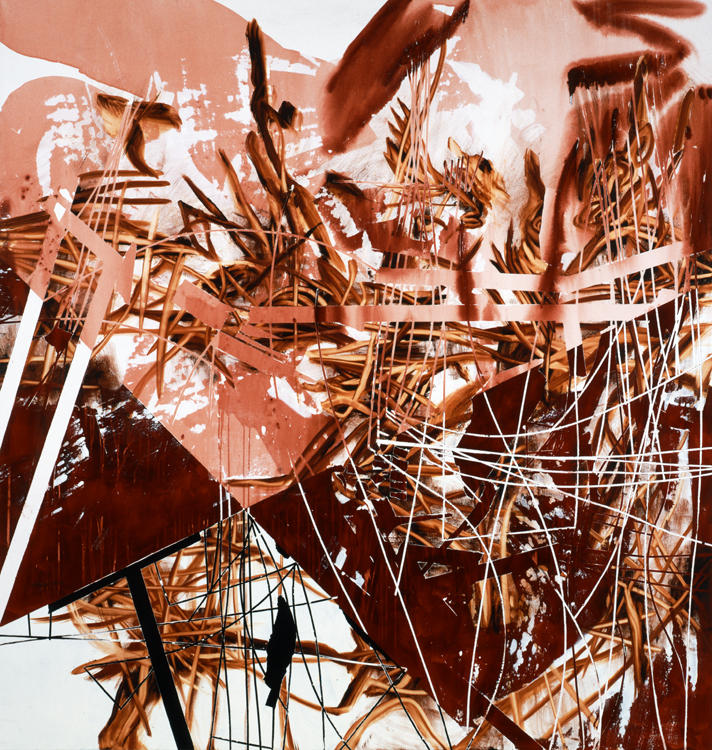 Below is Lazybone Shuffle (2010), a newer work. Hear curator Jenelle Porter talk (gush!) about it here. Extraordinary.
Von Heyl recently had a museum retrospective in the U.S. (at Institute of Contemporary Art in Philadelphia and ICA Boston) and just wrapped up the same exhibit in the U.K. at the Tate Liverpool. There are articles about her in Art in America and an excellent one in BOMB magazine. Also, there is a time lapse slide show of von Heyl painting a mural at the Worcester Art Museum. Tyler Green of Modern Art Notes (referenced above) interviews her here. I'd like to thank her gallery, Friedrich Petzel Gallery, for most of the images. They do a beautiful job representing their artists online for those of us not able to see them in person. I've just scratched the surface in featuring these artworks – check her out. You won't be disappointed.